European Journal of Chemistry is a peer-reviewed journal that publishes original research and review articles as well as letters in all areas of chemistry (Analytical Chemistry, Inorganic Chemistry, Organic and Bioorganic Chemistry, Biochemistry, Theoretical and Applied Physical Chemistry, Pharmaceutical Chemistry, Applied and Materials Chemistry, Chemical Technology, Agro Chemical Technology, Pharmaceutical Technology, Colloid Chemistry, Interfacial Chemistry, Surface Chemistry, Chemical Engineering, Green Chemistry, etc.). European Journal of Chemistry is available free of charge as an Open Access journal on the Internet.
I am very pleased to announce the launch of European Journal of Chemistry, a peer-reviewed journal. This journal accepts original research and review papers as well as letters in all areas of chemistry. A manuscript submitted to the journal for publication should be original. It should not have been previously published and should not be under consideration for publication elsewhere. All published research articles in this journal have undergone rigorous peer review, based on initial editor screening and anonymised refereeing by at least two expert reviewers. Authors are encouraged to suggest referees for their work. The journal is published print and online and articles are available as online rapidly after acceptance. The published articles are expected to receive high citations as the journal develops and reaches prominence in the field. I expect that European Journal of Chemistry will attract manuscripts of the highest quality which are of the greatest possible benefit to readers. We look forward to receiving your submissions.Please do not hesitate to contact the Editor, if you would like to discuss the suitability of your contribution to European Journal of Chemistry.
Editor
A= Total cites in 2012 = 127
B= 2012 cites to articles published in 2010-2011 (this is a subset of A) = 105
C= Number of articles published in 2010-2011 = 164

D= B/C = 2012 impact factor = 0.640
[The citation data obtained from Crossref (Cited-by Service)].
Announcements
No announcements have been published.
Vol 5, No 4 (2014): December 2014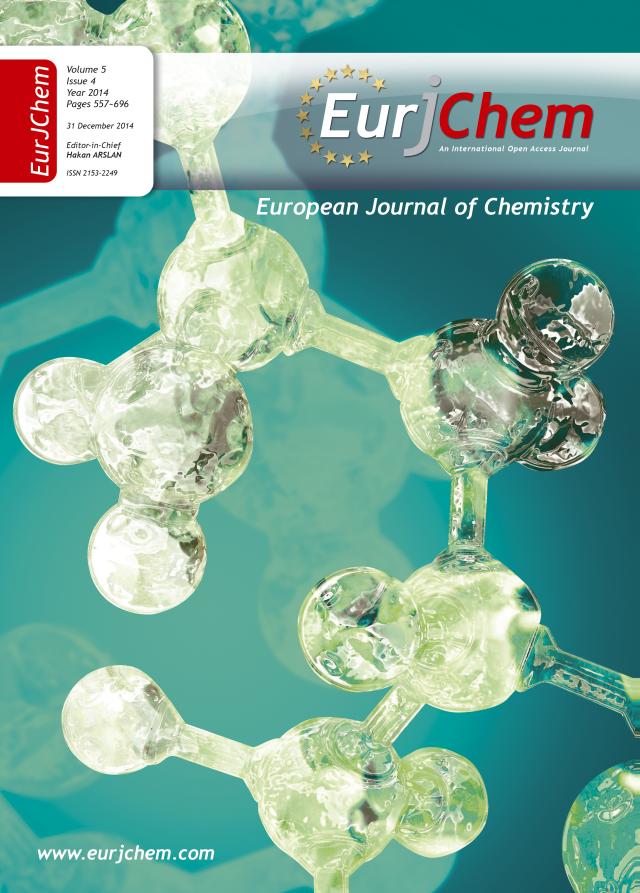 ISSN: 2153-2257